We saw something interesting the other day – Amazon now shows brand-new vehicles on their site – with the usual Amazon features like showing reviews and price (in this case, they show MSRP).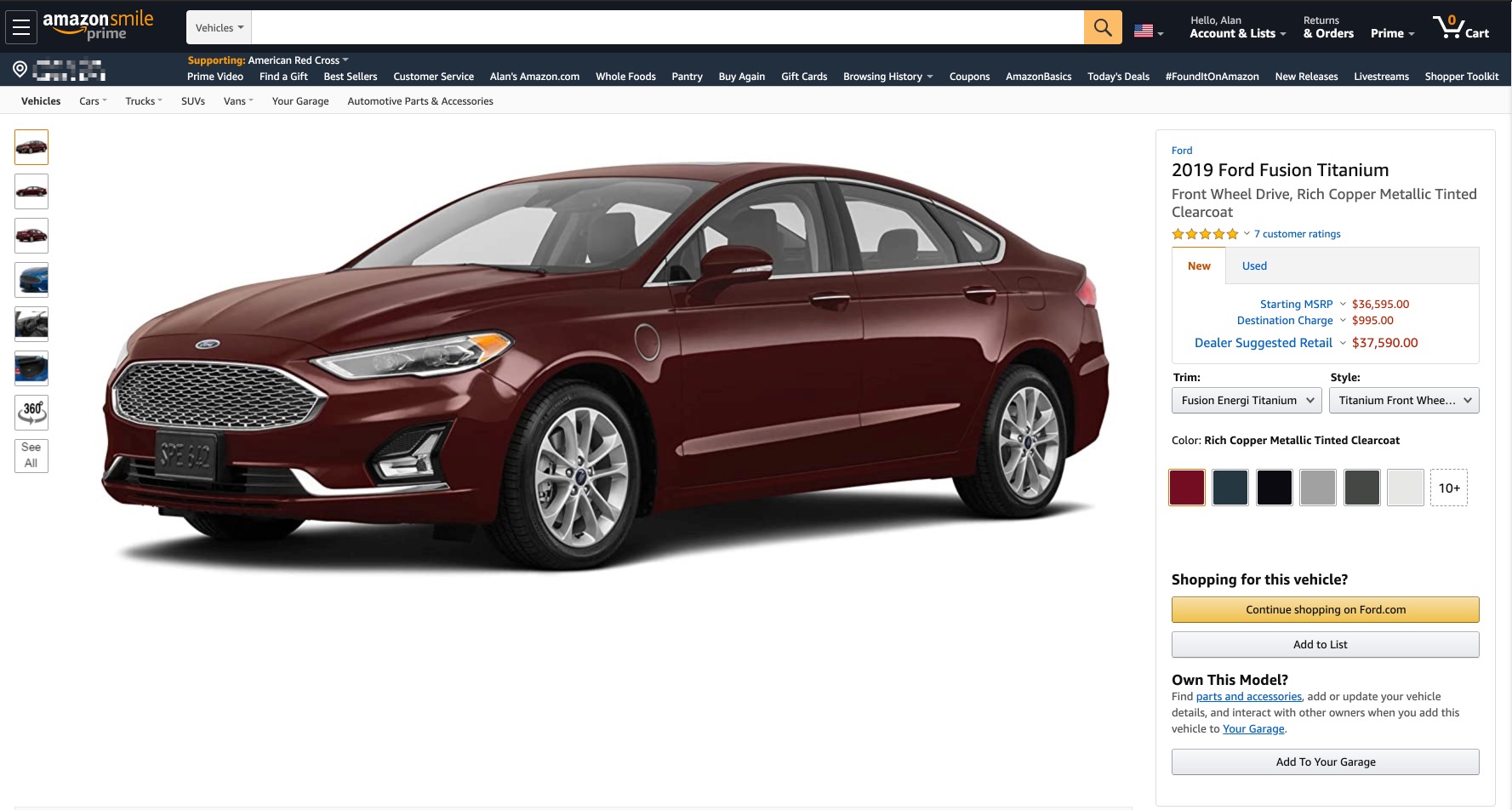 But you're not really buying from Amazon – they simply direct you to the OEM website and create leads for them. Even though Amazon is just a bridge to the manufacturer's site then eventually to the dealer's site, it wouldn't be strange to think that one day you may be able to even order a car from Amazon. 
What comes next after being able to sell such high-priced items online with a click of a button? Houses? Your next home could be "One Click Add To Cart"!
The fact is that Amazon is the most powerful marketplace on the planet. As it looks now, it's a new lead generation tool for dealerships and is still a new frontier for Amazon. 
Bottom line is that these new leads can culminate in a sale, and this is not just a new influx of leads, but leads who are internet savvy and may have different needs and expectations than buyers walking through your front doors. 
Virtual Dealerships: Coming Soon
Moving online is going to become a big trend for this industry. We have already been seeing dealerships moving to sales online, or at least beginning the process. When this trend continues, this means there will be fewer people at the dealership and a lot more coming to you for technology, service, and parts.
We're going to be frank: the era of the guy that doesn't like to sell through a computer is over. This is the nail in the coffin. 
Sales teams are going to have to start navigating the technology landscape now in order to keep up with this change.  
Everyone has to adapt… everyone
How does this affect rural dealerships? It's hard to imagine these digital trends affecting a family-owned rooftop serving a small town of 10,000 people in rural Michigan… but it will catch up to them, too. 
The disadvantage for these rural dealers is having to play catch up with things starting to move online and understand how to handle leads from digital players like Amazon. 
Cybersecurity training will be crucial to protect against hackers and protect the sensitive information dealers handle during the sales and service process. 
Dealerships' reliability on the internet is a lot higher now. They need to have a primary and backup internet source. 
What does the near future look like?
Further ahead, there will also be less need for all staff to be physically working at the dealership, with work from home options more common now. With fewer sales staff onsite, and more browsing is done online, this means less of a dealership footprint. 
For a long time, OEM manufacturers required dealerships to have large footprints. But in the future, it won't always need a bigger and better landscape. 
This is an evolutionary force that will change how dealerships do business.
Adopting all this new technology and cybersecurity training can be costly – but it will give you more qualified sales reps, that don't just deal with leads – they'll be focused on selling customer service. 
This also opens up the opportunity for new customer experience tools to help the customer and less wiggle room for unethical practices. For example, the "oh remember I told you about how the deal was going to be a thousand dollars less than it actually was" conversation won't be so frequent. Those days will be in the past because everything will be digitally recorded.
Why online buying can be more personal
In the future, some customers won't even walk into a dealer… but the customer relationship will be deeper. 
Digital interactions can actually deepen relationships and make it a more honest conversation. 
The book of clients will be more like a broker than anything. These changes will require the organization to have to keep the best of the best people. It's already happening with COVID. 
There are always the handful of guys that are putting four or five deals together and then they rotate out in six months. With a shift toward deeper relationships and smarter service, those guys are going to be fewer and far in-between. 
Culture is going to be really important for the organization and data analytics is going to be another huge piece. The moneyball of selling vehicles is going to be huge.
Advice For the Future
First and foremost, establish security training as soon as possible. More digitalization of our landscape means a higher risk of cyber issues. Not only training but also penetration testing and litmus tests or audits of what that security infrastructure is going to look like. 
Shoring up your basic IT defenses is the best first step in preparing for the coming changes.